It was quite the mixed bag of whale watching in the Salish Sea this week, with some great humpback encounters, killer whale encounters, and two tours where we didn't see any whales at all!
This week we had visits from the T034, T037, T065B, and T137 families of killer whales. The highlight though, was an experience with the T137 family of orcas. We met up with them down by Protection Island and got to watch as they were hunting a harbor seal. It was an intense encounter with lots of splashing, breaching, and commotion. It was an amazing hour of whale watching!
We had some great humpback whale encounters too, and let's not forget about the Minke whales! We had minke whale sightings on two tours as well. 
Crazy how fast summer is going by. We hope to see you for some adventure whale watching soon!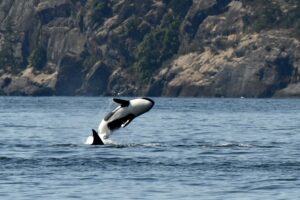 .