We had a mix of orcas and humpbacks on our tours this week, but it was the humpbacks that stole the show!
On Wednesday we found two humpback whales known as "Frankenstein" and "Zephyr" down in the Strait of Juan de Fuca. Our encounter started off somewhat uneventful, but just as we were about to leave, the two whales started breaching over and over again! It was amazing to see these two 60,000 pound animals launching themselves out of the water over and over again. To make things even better, in between breaching, they exhibited another playful behavior called pec-slapping. It was an amazing sight to behold. 
On Thursday morning's tour, we met up with another couple of humpback whales. These two were a mom known as "Ghost" and her new calf! As soon as we arrived on scene, the calf got very playful and started breaching over and over again. The calf kept this behavior up for well over a half hour. It was amazing. What a wonderful couple of days with humpback whales!
We also had some great encounters with orcas this week including visits from the T046, T065B, T034, T037, and T046B families. 
Can't wait to get back out there for another week of whale watching in Anacortes!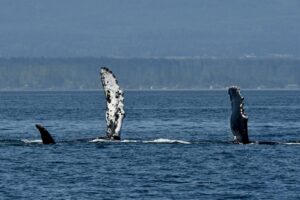 .